Cooking Classes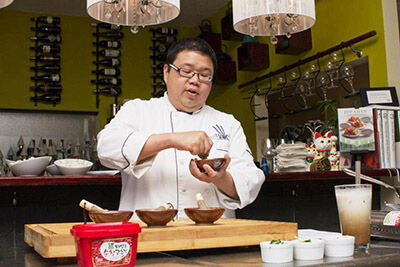 Classes are held each month.  Cost is $85- $100, and we will provide all recipes and instruction. 
Interested in learning how to cook your own Hip Asian Comfort Food in person? Join us for cooking classes LIVE at Blue Bamboo! With a new theme every month, take a journey through the world of cooking as you learn to prepare a traditional Asian dish. Along with cooking instructions, Chef Dennis Chan loves to share anecdotes from his days as a Culinary Institute of America student, share secrets, and explain the science of cooking with his students.
Class Times: 10 am-noon, select Saturdays
Cost: $85-$100 per person
Includes: Lunch and one hand-crafted cocktail

New theme every month

Classes are open and conversational

All are welcome

Classes capped at 30 guests – don't delay, and reserve today!
Reserve your spot by booking through eventbrite.
Upcoming Classes
August 26, 2023 Sushi and Sides Cooking Class
September 16, 2023 Blue Bamboo Restaurant Secrets Cooking Class
October 21, 2023 Bao Down, Pork Buns, Chicken Mushroom Buns, Dumplings, and Noodles Cooking Class
November 4, 2023 Asian Market Field Trip and Cooking Class
December 2, 2023 Holiday Appetizers and Desserts Cooking Class
To register for a cooking class, please click or visit our page at eventbrite.com.
Check us out online for virtual classes.
Private Cooking Classes
Interested in private cooking classes? At Blue Bamboo, we offer private cooking classes to groups of ten or more.
Class Duration: two hours

Classes are open and conversational

Generally, includes appetizer, entree, and dessert

Can be hands-on or demonstration-style

Themes vary from specific countries, Holidays, Market shopping trip, Science in the Kitchen, South East Asian Curries, Molecular gastronomy, and Technique classes. Our most popular theme by far is, "Hip Asian Comfort Food!"
Pricing:
In-home classes are $3750 for up to 10 people.

Private classes at Blue Bamboo in the evening are $2200 for up to 10 people.

Private classes at Blue Bamboo during daytime hours are $1075 for up to 10 people.

Additional guests are pro-rated.